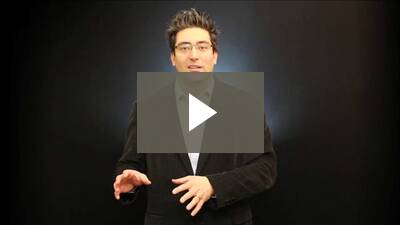 In a recent article, I shared insight into the stigma of sales. I gave a grim overview of how salespeople are perceived by their prospects and customers. I hinted at how you can succeed despite and in spite of the negative reputation salespeople have earned themselves. And, I promised that I would give you a few ideas about how to overcome the odds and put yourself on a path toward sales success by becoming perceived as anything but a salesperson. I make good on my promise below:
The goal is to transform your prospect or customer's perception of you from salesperson to:
▪ Value Provider
▪ Assistant Buyer
▪ Valuable Resource
▪ Customer Advocate
▪ Idea Generator
▪ Trusted Advisor
Those are just a few of the titles you must aspire to earn. Pay attention to the word earn. You can put whatever you want on your business card, but what really matters is how your prospects and customers think of you. If you put down that you're a "Value Provider" and they think of you as "Slimy Salesguy," well…you lose.
Here's how to earn the respect, the trust, and the sale:
1. Start out by changing your philosophy. It's not, "How do I sell as much of my stuff as possible?" It's, "How does my prospect win by buying and using my stuff?"
2. Never try to sell something that you would not buy yourself were you in a similar position as your prospect.
3. Bring a new idea (or three) to your first meeting. Yep, your first meeting. Show up prepared. The idea has to be something of value – something your prospect can use to become more profitable, more efficient, or more secure. Don't worry about whether your idea is connected in any way to your product or service. Focus on connecting the idea to their business.
4. Do not ask anything about fishing or hunting or "how they're doing" until after you've shown some value. You think you're qualifying your prospect during your initial meeting or phone call – when in reality, they're qualifying you.
5. Ask great questions. Don't be winging it. Show up with a list of 10 great questions that get your prospect talking and thinking.
6. Come to your prospect by way of referrals from their peers. A great recommendation changes the game to your favor before you walk in the door.
7. Bring them a referral. If you show up with a new prospect for your prospect, they'll take your meeting. And, they'll "owe you one." Not every prospect will repay you, but most will. The more you can connect your customers to one another (unless, of course, they happen to be direct competitors), the more business you will earn for yourself.
8. Offer to work in their business for day. Tell them that before you make a decision about whether your product or service can help them, you'd first like to fully understand what they do, how they do it, and why. Spend a day in their shoes and they'll spend their money with you.
9. Leave your brochures and PowerPoint presentation behind. Make the first interaction all about them. Tell them you'll give them the full dog and pony show by their request only. Don't be surprised if they never ask.
10. Be prepared to walk away. Sometimes during a meeting or a phone call, you'll realize that you're not the best fit for your prospect. Walk away. Fast. Tell them you do not think that you can help them but you'll be back one day if and when their needs (or your service offerings) change. You will earn their respect and, perhaps, their future business.
11. Read everything you can about your prospect – their company, their industry, their competitors, their announcements, their social media posts, etc. – and send your prospect "clippings" of the most relevant and insightful pieces. Add your own comments when appropriate.
12. Follow-up and follow-through. Do what you say you're going to do…when you say you're going to do it. Send them a cool gift (gifts are "cool" because of their thoughtfulness and their usefulness – not because you spent $50 on them). Hint: relevant business books that provide ideas and answers to your prospect's most burning questions are the best possible gifts. Inscribe them with a personal note. Even if your prospect never reads the book, they'll put it on their bookshelf and they'll always know where it came from. If they do read the book – you'll have something to talk about (at great length) next time.
13. Read a few books yourself. You'll find more ideas and inspiration than you've ever dreamed of. While you're reading, ask "How can I adapt this to my business? How can I use this in my situation? And…why the heck didn't I read more books before!?!
Note: Your mileage may vary. Not every strategy will work for you. Pick a few that fit you well and get to work.
Note well: The first sale you have to make is to yourself. If you think of yourself as "just as salesperson," your prospect will do the same. Make a list of everything that you actually do for your customers. Things that you do for them (rather than yourself), on their behalf, and for their benefit. The longer that list is, the easier it will be to prove to yourself (and, eventually, your prospect) that you belong in a different kind of category. The kind of category that deserves and earns the business.